Africa is endowed with a rich history of dinosaur fossils that continue to be a source of intrigue for scientists across the globe. But the number of women scientists and fieldworkers to carry out the excavations is very limited.
Professor Anusuya Chinsamy-Turan is among the few women pioneers involved in this interesting and highly specialised field of science. She is a highly qualified and world famous palaeobiologist in the department of biological sciences at the University of Cape Town. She is also an NRF A-rated scientist with expert knowledge in the microscopic study of dinosaur bones.
Apart from exploring our rich African heritage, Professor Chinsamy-Turan is also passionate about encouraging more women to pursue her field. She wants to break the stranglehold that men continue to have in both palaeontology and archaeology, an observation she made when she was the chair of the Association of South African Women in Science and Engineering.
Challenges and obstacles
Professor Chinsamy-Turan says the main obstacles in the field are the logistics and the associated dangers faced by women who undertake fieldwork alone mostly in far flung areas. She says these have a significant negative impact on the growth and development of women in the field. Says the professor: "Safety is a big concern. Usually when we go into the field, we try having a big group of men and women. And, yes, palaeontology is still a very male‑dominated field in South Africa." Related to this is the issue of race, where people of colour also get the short end of the stick.
Focus of research
Being a black person of Indian descent and a woman at the same time, she really had it hard. But despite these obstacles she received constant moral support from her father who encouraged her to study. She enrolled for an undergraduate degree and then proceeded to do a postgraduate degree and later her specialisation in palaeontology. The focus of Professor Chinsamy‑Turan's research is mainly laboratory-based where she studies the microstructure of fossil dinosaur bones to understand them as once-living animals. She says like reptiles, dinosaurs' growth was influenced by seasons; during favourable climatic conditions, they would grow at the same rate as birds and mammals. Their bone histology provides an insight into the past and the rate of growth.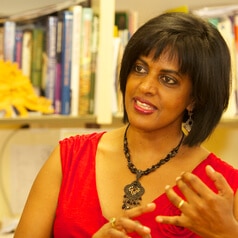 Different specimens
Africa boasts some of the gigantic dinosaurs such as fish‑eating Spinosaurus Aegyptiacus, whose remains have been found in Morocco. It has the highly adapted aquatic predator had an impressively spined and flexible tail, a five-metres "fin" unlike anything else found in dinosaurs and likely used for propulsion. Another gem that Africa has is Argentinosaurus – considered one of the biggest land animals known, which grew to between 30 to 40 metres long and weighed up to almost 100 tonnes.
The fossils discovered in Niger and Morocco, suggest that Africa's frightening dinosaurs are Carcharodontosaurus saharicus, commonly referred to as Africa's Tyrannosaurus rex. It is one of the largest carnivores ever seen on planet Earth, measuring 13.72 metres long with 15-centrimetre-long serrated teeth. The other dinosaurs that made continent their home include the majestic long‑necked specimen such as Brachiosaurus. It is a giraffe‑like herbivore that grew to heights of between 12 to 16 metres (think of a four‑storey building) and weighed in at around 22 tonnes.
Early groups of dinosaurs
Some of the early group of dinosaur fossils found in the sub‑continent include the famous long‑necked Massospondylus, an early sauropod found by Sir Richard Owen in 1854 in South Africa. Similar fossils have also been located in Lesotho and Zimbabwe. This dinosaur was four to six metres long, bipedal and probably a herbivore, with a slender body and small head. It had a sharp thumb on each forelimb, likely for defence or feeding, explained Professor Chinsamy-Turan.
Megapnosaurus, which measures 1.8 metre-long is another jewel of Africa. It was bipedal, narrow‑snouted and had strong hands and long fingers. In South Africa, a valuable fossil cache of these dinosaurs' bones came to light when researchers found a bed of 30 tangled skeletons. It's thought that the pack may have been drowned in a flash flood while out hunting.
Perhaps one of the interesting nuggets of information Professor Chinsamy-Turan shares is that the fossil record indicates that these prehistoric animals also suffered from disease. She shared an image during one her presentations which showed a Tyrannosaurus rex jawbone, with holes caused by a parasitic infection. "And the cool thing is that in modern birds today, you can find the same lesions, the same holes, because of a protozoan that infects them," she says.