While the Covid-19 pandemic has cost lives, collapsed health infrastructures and ruined economies of countries across the globe, it has also created windows of opportunities for those with creative minds and can think out of the box.
Consuming food packed with vitamin C
One name that should be added to that list is that of Adongo Ade, a young Ghanaian female entrepreneur who saw a gap during the pandemic and exploited it. When health experts were encouraging people to drink or consume food that were fortified with vitamin C to boost their immune systems, Miss Ade's entrepreneurial minds kicked into full gear. She came up with the idea of producing organic products that contain immune-boosting nutrients.
Chemical residues
Food experts say organic foods contain beneficial nutrients because they do not get exposed to chemicals such as synthetic fungicides, herbicides and insecticides which are widely used by most conventional farmers. The residues of these chemicals remain in food that people eat and this causes allergies. Organic foods help prevent conditions such as cancer, heart diseases, premature aging, to mention a few.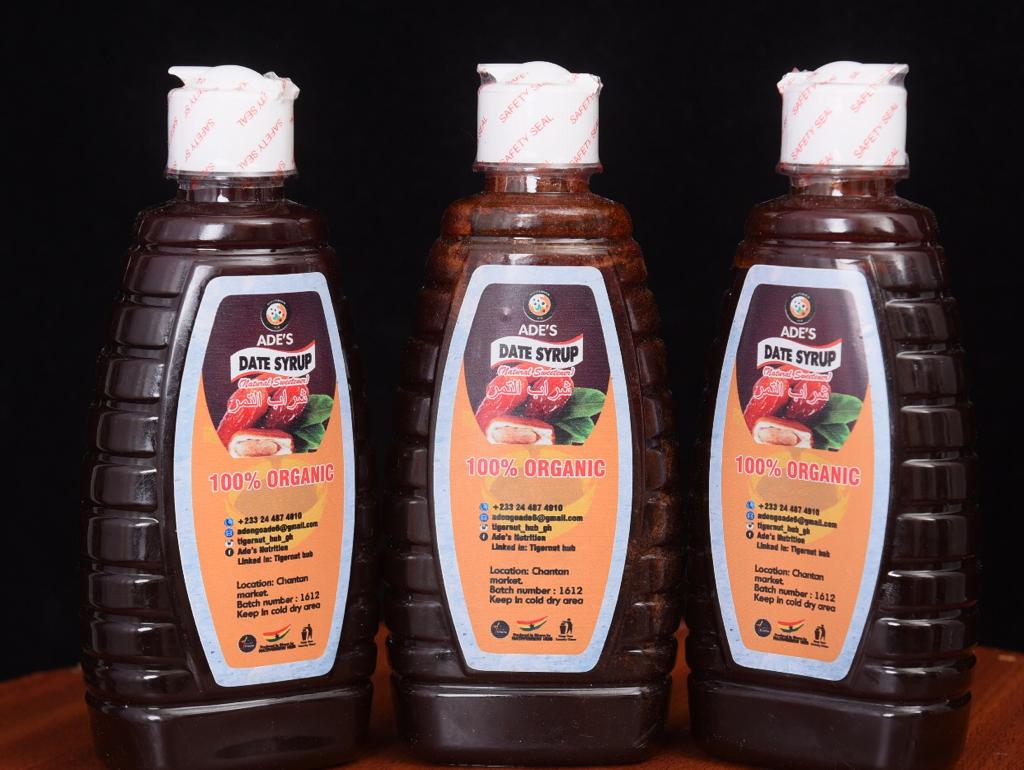 Nativebrew Hub
Miss Ade's idea took form in 2020 when she established Nativebrew Hub to produce organic products such as Date Syrup, Date powder, Tigernut milk and Tigernut powder. Her products are 100% organic with no amount of any preservatives. She says Tiger nuts have been used in traditional medicine for years; they can help people to manage their allergies better as they act as a substitute for foodstuffs that contain common allergens. Tiger nuts are also a source of fatty acids, fibre, and some vitamins and minerals.
Benefits of antioxidants
As for dates, Miss Ade says they are also very vital as they provide various antioxidants that have a number of health benefits such as reduced risk to several diseases. Antioxidants protect your cells from free radicals, which are unstable molecules that may cause harmful reactions in your body and lead to disease. They're a natural source of fructose, the type of sugar found in fruit.
How the idea came about
Explaining how the idea of starting her business came about, Miss Ade says as soon as the idea came into her mind she did some research to find out more about foods and other products that can naturally help boost the immune system. "So when specialists were preaching to us to take in immune boosters, I decided to venture into the production of healthy organic products," says Miss Ade.
Innovation for sustainability
To sustain her promising and potentially lucrative business venture, she is planning to secure a tricycle that will be equipped with a refrigerator or an ice container to keep products fresh and to prolong their shelf life. This will also help boost sales as well as provide an efficient delivery system. In addition, says Miss Ade, she needs to purchase the requisite machinery and equipment to ensure she produces products in large quantities to keep with the growing customer demands and service. Miss Ade's long-term plan is to expand Nativebrew Hub's market share and footprint beyond her locality so that her products can be widely distributed while also creating sustainable jobs for the locals.